Back to Blogging!
As you can tell from my archived posts, it's been nearly two years since I've updated my blog! Where to begin ... so much has happened since then that I'll have to catch everyone up over the course of time or this first post will be a novel. But, basically between long spurts of not feeling well, the passing of our sweet, yellow lab, Bailey, traveling to Mexico and taking a cruise to the Eastern Caribbean (our 1st vacations since our honeymoon back in 2001!), working on renovating our entire house, all while continuing to design and keep up with the normal, everyday chores ... well as you can see, I just haven't had the time or energy to blog. BUT, seeing as I do enjoy it, and it's a good way to share what's going on with my life, scrapping, and designing with everyone, and I

finally

seem to have all my health problems sorted out and under control so that I'm feeling well on a regular basis, I decided that it's time to start blogging again!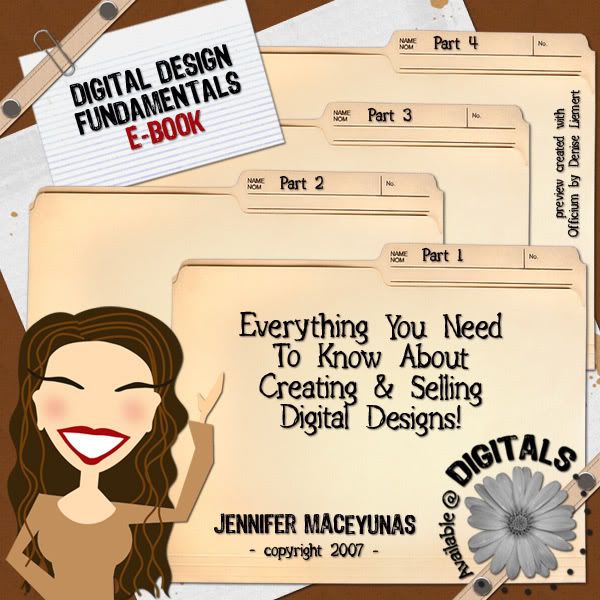 So, what have I been up to recently in the digi world? Well, I spent the first half of 2007 writing an E-Book called
Digital Design Fundamentals
where I not only present all of the basic information someone would need to create and sell digital scrapbooking graphics, but I also present my tip, tricks and advice based on my experiences in the industry. Knowing that my background was in teaching, the original idea, suggested to me by
Digitals
owner and my good friend,
Stacey Mann,
was to put this information together and then present it in a 4-week long, on-line class to those who are interested in becoming digital designers. So, after many hours toiling away on the computer putting all of this together, I was able to teach my very first session of the
Digital Design Fundamentals Workshop
last summer! Now, a year later, I'm currently wrapping up my 5th session this coming week! I've really enjoyed getting to teach again, even if it is in a slightly different way with totally different subject matter – LOL. I've also met some wonderful ladies through my classes, three of which have become absolutely fabulous members of my creative team: Megan (
bigmeg33
), Michele (
mmbbear
), and Rhonda (
rhondogg
). They, along with the four other super-talented ladies on my team – Kim (lsl_scrapper &
illinimom
), Teri (
ta_merkins
), Nancy (
nancyc
), and Sherry (
sherry.berry
) have been creating absolutely fabulous layouts with my designs. For now, you can check out all of their layouts in their galleries, but one of my planned blog updates is to add another slide widget to the bottom of the page where I can showcase all of their pages here!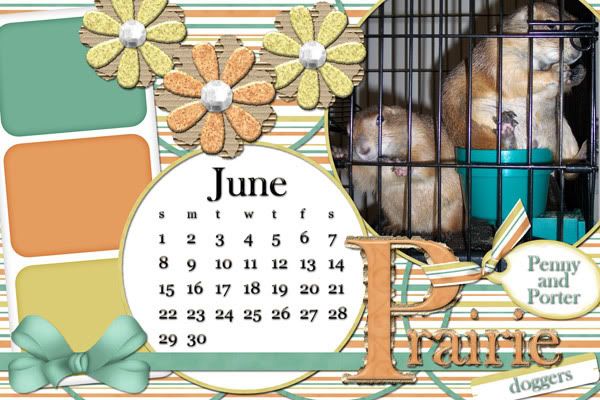 And speaking of scrapping, while I haven't done much of that recently either, I did at least manage to squeeze in making this desktop calendar at the beginning of this month. I try to make one each month so I can decorate my laptop, and all of Jason's co-workers also get a kick out of seeing the "pet(s) of the month" on his computer. These are our prairie dogs Penny & Porter. We purchased Porter back in 2002 from one of the exotic pet stores in our area, and then in 2004, we adopted Penny from a prairie dog rescue in TN. Both of them are great little pets – very affectionate, playful, and vocal ... they make these cute little noises when they're happy which the experts call "Yip Yip Yahoos", and they completely sound just like their name! Jason took this picture of them one night after feeding them their dinner (prairie dog kibble ... yes, they do actually make this - LOL, oats, and dried fruit), and I thought it was so funny that Porter was sitting on top of his dish. I created this page with my Funky & Fun mini kit which you can get for free by participating in the
June Sketchy Details Challenge @ Digitals
; there's still four days left to create and submit a page! You can find all the details by following the linked text above, and here is a preview of the sketch and entire Funky & Fun mini kit.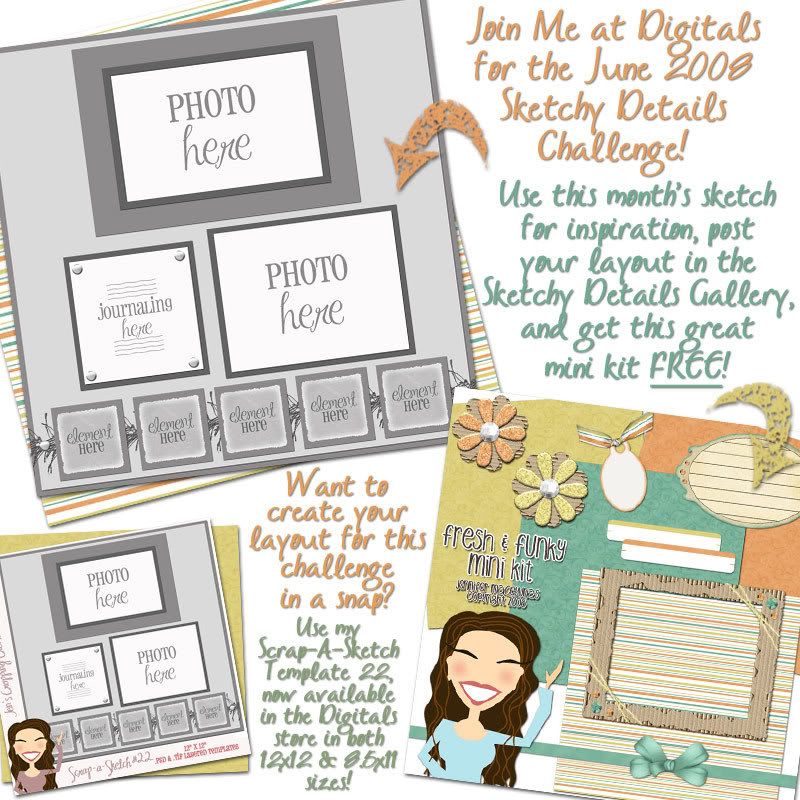 I've also added tons of new designs to my stores since my last post, and some of my favorites have been a series of
brag books
created with a variety of my kits by the last (but certainly not least!) member of my creative team, Donna (
donnatopia
). While I love them all, my favorite so far is the latest ... the
Funky & Fabulous Brag Book
... created with (yep, you guessed it - LOL) my
Funky & Fabulous Kit
and
Funky & Fabulous Add-On Kit
. You can also enjoy 25% off these 3 items at my Digitals Store by entering coupon code

ca501c7251

at checkout :) This coupon will expire on 07/01/08.



And, seeing as I not only love this brag book so much, but the Funky & Fabulous kit that it was created with are still two of my favorite designs to date, so I created a fun, little, raised sticker type alpha to share with everyone. You can download it
HERE
. And if you enjoy it, please leave me a little comment and/or share the link to my blog (not the link to the file or the file itself please!) with your friends.
Well, time to get back to designing! Watch for a new, fabulously full of texture and patterns, kit next week called Vibrant and Vintage. There may just be a little freebie to coordinate with it for everyone ;)

Happy Scrapping,
~ Jen ~